Pike-Perch
Pike-perch fillets are often compared by the culinary experts to the local
walleye
.
PRODUCTS
IQF NON-BREADED PIKE-PERCH FILLETS
ORIGINAL BREADED PIKE-PERCH FILLETS
CRISPY BREADED PIKE-PERCH FILLETS
NON-BREADED PIKE-PERCH CHEEKS
ORIGINAL BREADED PIKE-PERCH CHEEKS

FILLET SIZING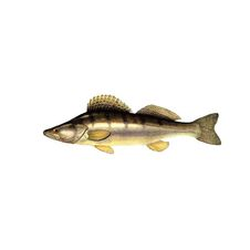 up to 1 oz ( -28 g)
1-2 oz (28-56 g)
2-4 oz (56-112 g)
4-6 oz (112-168 g)
6-8 oz (168-224 g)
8-10 oz (224-280 g)
10-12 oz (280-336 g)
SEE THE FULL PRODUCT LIST
PIKE-PERCH AS SPECIES
Scientific name:
sander lucioperca
Origin:
Europe, Russia
Biology: originates from the pristine European waters. It resembles pike with its elongated body and head, and the perch with its spiny dorsal fin. Pike-perch, however, is not, as is commonly beleved, a pike and perch hybrid. Pike-perch inhabits deep, calm waters of lakes, reservoirs, canals and rivers. Feeds mainly on fishes. Average size is 20-26 inches (50.8 - 66 cm).